Echo Earth at the Smithsonian's 2017 ACCelerate Festival
Echo Earth was selected for exhibition at the 2017 ACCelerate Creativity and Innovation Festival at the Smithsonian National Museum of American History in Washington, D.C., from October 13-15, 2017.
The festival is a celebration of creative exploration and research happening across the ACC at the nexus of science, engineering, arts and design (SEAD). It is an opportunity for all ACC schools to showcase their work to each other, potential ACC students and their parents, alumni, companies, legislators, and invited guests from the nation's capital.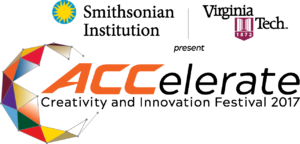 About Echo Earth
Echo Earth Experience (EEE) is a virtual reality (VR) experience, which simulates how marine mammals use echolocation to navigate underwater. Players transform into a beluga whale that uses echolocation as their main mechanism to navigate and search for food. This is a whimsical, experiential, simulation-based game where players must listen carefully and use echolocation to determine the direction of their food source.
EEE was originally conceived and created during the 2017 Global Game Jam at the University of Miami jam site by a team of University of Miami faculty and students and a Miami local. It was also was made with Unity and originally for Samsung Gear VR. Witness some of our 48-hour game jam journey here.
For more about Echo Earth, please visit echoearthexperience.com